Given that postage stamps are sold at retailers such as 7-Eleven allows everyone to send letters directly without going to a post office branch and queuing in line.
However, without proper guidance on postage rates, we may deliberately or inadvertently shortchange Hongkong Post for the job it does by underpaying the supposed rate we should pay.
For example, we have dozens of pads of local stamps and wish to use them until exhaustion, without being aware that a rate increase (like this notice) has been imposed.
As it turned out, we pay the Hongkong Post less than we should for the service it rendered — promptly picking up our letters and delivering it to the recipient.
So the question is: will my letter be discarded, processed on a slower pace or remain at the post office 'outbox' until I settle the balance?
It turns out that Post Office will continue processing the underpaid mails and inform the addressee.
For local destinations
Hongkong Post has ceased providing door delivery for underpaid mail items since April 2016. Instead, the addressee will receive a notification card, similar to that used for pickup of bulk items, ordering the pickup of mail at the post office and settlement of a surcharge.
For non-local destinations
All underpaid items will be forwarded through a cheaper surface route without notifying the sender. If, even under such cheaper mailing option the prepaid amount (stamp value) remains insufficient, the underpaid item will be charged on delivery, with the amount of the deficiency, plus an additional fee charged by the country of destination.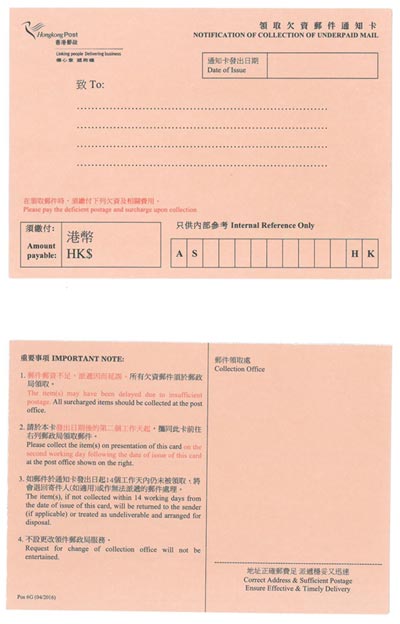 Important Notes:
1. The item(s) may have been delayed due to insufficient postage. All surcharged items should be collected at the post office.
2. Please collect the item(s) on presentation of the notification card on the second working day following the date of issue of the notification card at the designated post office.
3. The item(s), if not collected within 14 working days from the date of issue of the notification card, will be returned to the sender (if applicable) or treated as undeliverable and arranged for disposal.
4. Request for change of collection office will not be entertained.