Hong Kong's beautiful skyline, bustling streets, and cultural diversity offer travelers a variety of captivating experiences. The city's most famous attraction is the "Symphony of Lights." This spectacular multimedia show has wowed millions of visitors. Hong Kong's Symphony of Lights is a must-see. This article will help you maximize this unique experience.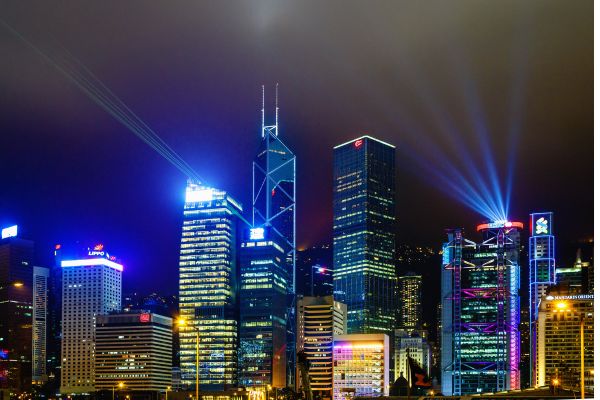 What is Symphony of Lights?
The Symphony of Lights is a nightly light and sound spectacle at Victoria Harbour, Hong Kong. The "World's Largest Permanent Light and Sound Show" it features a magnificent display of lights, laser beams, music, and narration against the city's distinctive skyline. The concert promotes Hong Kong's energy, spirit, and lively culture, making it a tourist must-see.
What to expect from this attraction?
Spectacular light show
Hong Kong's Symphony of Lights dazzles with coordinated lights and music. Nighttime brings a symphony of hues to the city's skyline. A custom musical score matches the sparkling lights. This synchronized performance depicts Hong Kong's lively spirit.
During the Symphony of Lights, several iconic landmarks participate in the show, further enhancing the grandeur of the experience. These landmarks include the towering skyscrapers of Central and Admiralty, the renowned Bank of China Tower, the striking International Commerce Centre, and the impressive Hong Kong Convention and Exhibition Centre. Each participating landmark illuminates the night sky with its unique light displays, contributing to the breathtaking panorama that unfolds before you.
Laser display
Hong Kong's Symphony of Lights dazzles with coordinated lights and music. Nighttime brings a symphony of hues to the city's skyline. A custom musical score matches the sparkling lights. This synchronized performance depicts Hong Kong's lively spirit.
Lasers enhance the Symphony of Lights' visuals. The harbor's light beams dazzle tourists and locals. The dynamic laser patterns and Hong Kong skyline provide an unforgettable experience that shows the city's technological and aesthetic strength.
Pyrotechnic effects
As part of the Symphony of Lights, a grand fireworks display adds a dazzling touch to the already magnificent show. The pyrotechnic effects create a burst of colors and patterns illuminating the night sky, leaving spectators in awe.
The rhythmic explosions and cascading fireworks choreography perfectly synchronize with the music, heightening the sensory experience. The fireworks add a dynamic and explosive element to the symphony, symbolizing the energy and vibrancy of Hong Kong.
Where to find the best viewing locations
Several city locations offer great views of the Symphony of Lights.
Tsim Sha Tsui Promenade: The Kowloon side of Victoria Harbour offers a good view of the spectacle. Arrive early to get a riverfront seat and see the cityscape turn into a dazzling light show.
Golden Bauhinia Square in Wan Chai offers a unique view of the spectacle. The square's Golden Bauhinia monument and port backdrop add beauty.
Victoria Harbour Cruise: See the Symphony of Lights from the water. While relaxing and romantically cruising Victoria Harbour, you can thoroughly experience the show's majesty.
Sky100 Observation Deck: The ICC's 100th-floor Sky100 Observation Deck offers a bird's-eye perspective of the Symphony of Lights. The terrace offers stunning city views, letting you enjoy the show from above.
How to get there
Locally located in the heart of Kowloon, there are plenty of ways to get to the viewing platforms to experience Hong Kong's Symphony of Lights.
Public transportation options
Hong Kong offers a convenient and efficient public transportation system that can take you to the viewing areas of the Symphony of Lights. The Mass Transit Railway (MTR) is the most popular mode of transport. You can take different MTR lines depending on your chosen viewing site. For example, to reach the Tsim Sha Tsui Promenade, you can take the Tsuen Wan Line to Tsim Sha Tsui Station (Exit L6).
If you plan to visit Golden Bauhinia Square, take the Island Line to Wan Chai Station (Exit A5). Bus routes also serve these areas, so check the local transportation guides or use mobile apps for route information.
Taxi services and fares
Taxis are readily available in Hong Kong and offer a convenient way to reach the viewing areas of the Symphony of Lights. Hail a taxi or visit a designated taxi stand near your location. Inform the driver of your desired destination, the Tsim Sha Tsui Promenade or the Golden Bauhinia Square.
Taxis in Hong Kong are metered, and fares are based on distance traveled and time spent in traffic. It is advisable to carry some cash as not all taxis accept credit cards. Additionally, expect higher demand and potential traffic congestion during peak times, so plan accordingly.
Directions for pedestrians
If you prefer to explore the city on foot, reaching the Symphony of Lights viewing areas is feasible. The Tsim Sha Tsui Promenade and Golden Bauhinia Square are walkable from significant tourist locations like Wan Chai and TST. Use a map or smartphone navigation software to be sure you're going the proper path.
Signage and pedestrian-friendly paths are available in these areas, making it easy to find your way. Take note of any specific landmarks or intersections mentioned in the directions to guide you along the route.
Before visiting, verify transit timetables and Symphony of Lights updates. Traveling during busy tourist seasons or unique events requires extra time. You can enjoy your trip to the Symphony of Lights viewing areas by booking your transportation.
How to best experience the Symphony of Lights
Best time to arrive
Arrive 30 minutes early to maximize your Symphony of Lights experience. This will ensure a decent viewing spot and prevent the last-minute stampede. Arriving early allows you to explore the neighborhood, enjoy the atmosphere, and choose a comfortable location to watch the event.
Dress code and weather considerations
Dress comfortably and weather-appropriately for the Symphony of Lights. Lightweight, breathable clothing is advised for Hong Kong's hot, humid climate. Evenings might be chilly, especially along the shoreline, so pack an extra layer or light jacket. Wearing comfy shoes also lets you explore the area without discomfort.
Photography and capturing the moment
Recommended camera settings: To capture the vibrant and dynamic lights of the Symphony of Lights, consider using a camera with manual settings or a smartphone with a good camera app. For optimal results, use a tripod or stabilize your camera to avoid blurriness. Adjust the ISO settings to a lower value to minimize noise, and experiment with longer exposure times to capture the colorful light trails.

Additionally, disabling the flash and using a wide aperture (lower f-number) can help capture the essence of the spectacle.

Photo opportunities and angles: The Symphony of Lights provides numerous opportunities for capturing stunning photographs. Experiment with different angles and perspectives to capture the essence of the show.

Consider shooting from various vantage points such as the waterfront promenade, rooftop bars, or from the deck of a harbor cruise. Look for interesting compositions that incorporate iconic landmarks, reflections in the water, or the silhouettes of spectators. Be creative and use vibrant colors and dynamic movements to create memorable images.
Safety precautions and crowd management
Awareness of personal belongings: Always watch your stuff at crowded events. In crowded areas, pickpocketing might occur, so keep your belongings safe. Avoid flashing precious jewelry or electronics; use bags or backpacks with secure fasteners. Staying informed and taking care helps ensure a safe and pleasurable trip.
Follow instructions from event staff: Event workers control crowds at the Symphony of Lights. Following event staff instructions on seating, limited areas, and safety is crucial. Cooperating with personnel will assist in maintaining order and enhance event pleasure.
Hong Kong tourists must watch the Symphony of Lights as part of their city itinerary. The breathtaking lighting, music, and sound effects will leave a lasting impact. The Symphony of Lights is unforgettable from land or a Victoria Harbour cruise.