Hong Kong is famous for its dynamic and vibrant metropolis that extends beyond shopping, nature and its people. A melting pot of cultures, a financial hub and well-functioning transport links, it's not a surprise Hong Kong attracts visitors from across the globe.
However, such attraction to tourists also presents easy pickings for scammers. Whether local or tourist, scams are everywhere in Hong Kong and a keen observer with local knowledge should help uncover these nefarious activities.
Overcharging taxi drivers
Hong Kong taxi drivers may have suffered bad reputation because many of them exhibit bad manners towards hailing passengers — selective on destinations, failure to communicate in English or poor maintenance of their vehicles. But if there is anything that's worse than that, it's drivers that overcharge passengers especially during times when their services are in highest demand such as peak hours, holidays or rainy days. All taxicabs are equipped with meters so when a driver charges much higher than what appears in meter or when you observe driver is making a few more rounds instead of directly heading to destination, record the plate number or name of driver.
Unlicensed transport touts at the airport
This problem is rampant across many places in the world and Hong Kong is not exempt. Touts offer arriving passengers especially those with large luggage to their vans under the premise that taxi queues outside are long and you should bypass it to save time. The truth is that you're likely charged much higher rate than if you're taking the licensed transport units. While it's okay to pay extra to get that convenience — someone helping you carry your luggage and arrive at your hotel faster — but these touts charge you much more so it's no longer worth it.
Electronic bait and switch purchase
You visit an electronics shop to buy camera, laptop or drone. After examining many models, you decide to get one. You confirm this with a shop attendant, who goes to the backroom to take a fresh stock. While many shops show you the new item before sealing the package, other shady practices include placing old models or even fake ones though the latter is much less likely.
Another approach is that when you are looking for specific product model, a sales staff dismisses your choice as outdated and low-quality and suggests another model ostensibly better than your original choice. This new product is priced way above the market rate and if you don't make prior research about this product you'd get overcharged, even though the store might offer free giveaways such as USB drives, product packaging and other freebies.
These things happen more often on individual shops that are located at touristy areas. Buying at chains such as Broadway or Fortress could lessen your risk of getting scammed by these practice. If you would like to report this scam, you can call the Consumer Council at +852 2929 2222.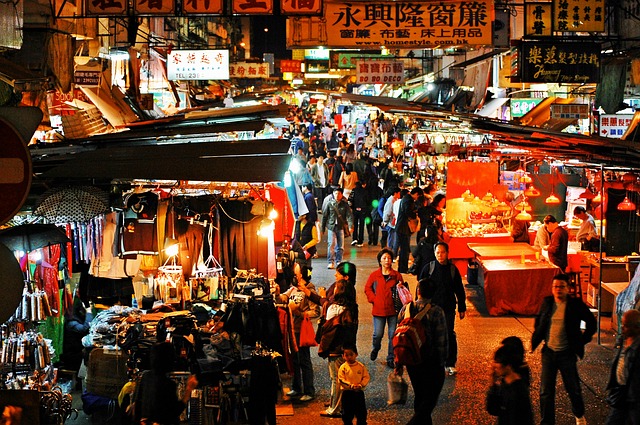 Timeshare scam
You may be walking around the city, exploring the streets, attractions or having your lunch. Someone might just approach you, such as the notorious white woman in Tsim Sha Tsui, seeking a few minutes of your time to answer harmless questions such as which attractions you visited, how long are you staying in Hong Kong and so on. As token of thanks, they might ask you to scratch tickets which you'll likely win something. But to claim the price you need to visit a location as advertised — hotel timeshare, property open house or other membership invitation — and spend the next hour or two listening to speakers inviting you to take their offers. They may offer you giveaways but you waste precious time supposed to be for city exploration.
Depending on who you ask, it may or may not be scam but for the sake of those who wish to avoid such situation, we've included it here.
Shopping itinerary on guided tours
Joining a tour group is a good idea to save time since you'll be brought to attractions with less hassle of independent travel (knowing your way around, getting lost on commuting, and so on). Many tours come with guides and transport buses so it's a convenient option. However, there are reports that certain tours make diversions at shops that sell souvenirs or specialty products and guides coerce tourists to make minimal purchases at these stores.
If you become a victim of such practice, report the case to the Travel Industry Council
Fake products scheme
There are plenty of products can be used under this scheme to exploit an unsuspecting tourist. Herbal medicines, jewelry and antique items are among them. You may just be looking around or brought into a shop through a tour guide, then someone approaches you and offer to sell the item cheaply to you (with refreshments to boot). This person suggests you can resell the item at higher price back home.
This person also shows you some certificate of authenticity proving that the item they sell is authentic. Someone else — usually a seller's cohort makes a purchase to entice you to do the same. Be thankful if you don't — these products are worth nowhere near their display price tags.
Bootleg and counterfeit items
You may have read about Mong Kok and the cheap night market goods you can haggle hard with merchants. While bargains are aplenty, so are fake products too. Buying that Rolex wristwatch for a few hundred bucks? Don't expect it to last a few months long. Fancy buying that exotic jade necklace? Make sure you don't spend a fortune for such piece. And that 'Lost in Hong Kong' shirt for friends back home? They might shame you if they'll wear out after a few trips to your friend's laundry basket.
Pickpocket modus operandi
In a crowded city like Hong Kong, keeping your valuables (wallet or passport) in check should be a priority especially when out on the streets. Pickpockets might operate individually or in groups. In the latter, one might distract you by asking for direction while another will block bystanders' view as another companion targets your purse or pries your wallet away.
It is therefore best to use a spare wallet, small purse for loose change or smaller bills or use an anti-theft bags do deter pickpockets.
While police makes routine inspection on identities (they might ask for Hong Kong ID or passport), bringing a photocopy of your travel document should be good enough while you keep your original passports in hotel safe.
Spiked drinks at bars and nightclubs
There have been cases when tourists have fallen victims of criminal syndicates who commission attractive women to entice single male tourists to drinks at nightclubs and bar. The women will engage these men to conversation and offer drinks laced with spike. Perpetrators then take away valuables once victims are knocked out of their consciousness.
Scammers likely target lone travelers so being in tandem with another person — wife or friends — will help deter women from approaching tourists. Unless you are confident your glass of drink isn't tainted, opting for bottled beer is a safer option.
Borrow your cash scam
Looks quite easy to detect as scam but there are folks who still for for it. This scheme involves someone who will claim he or she has been robbed and need to borrow cash from you while promising to pay you back. This person, who appears decent, leaves you his or her business card as he passes himself off as a reputable person. After you'll lend your money, this person will no longer be seen and the information presented in the business card — name, number, address — are all made up.
While there are true cases when people lose valuables to pickpockets, you can help out by handing over HK$20 subway fare money if you think the case is legitimate. If not, simply ignore the request and walk away. You are not obliged to reach out.
In case you have suspicion you are a victim of a scam, here are some contact numbers you can call. Just prepare evidence if available — taxi plate number, receipt of a fraudulent transaction, etc.
Emergency services (police, fire, ambulance) 999
Police Hotline +852 2527 7177
Hong Kong Tourism Board Visitor Hotline +852 2508 1234
Consumer Council +852 2929 2222