Hong Kong's rainy season typically occurs during the late spring and summer months, from May to September. During this period, the region experiences higher humidity levels and an increased likelihood of rain and thunderstorms.
The rainy season in Hong Kong can bring heavy downpours and occasional typhoons, which may lead to disruption for locals and tourists. There are commonly observed inconveniences during a downpour.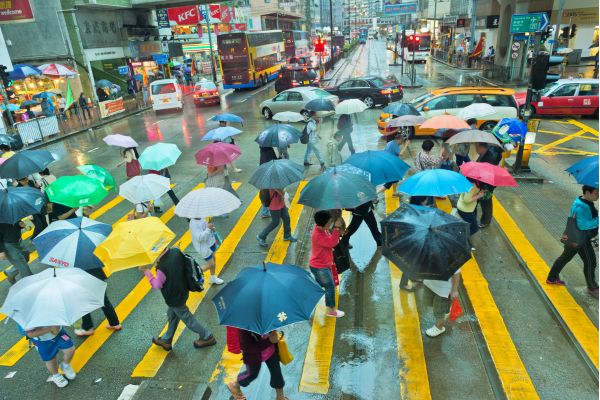 Congested traffic flow
Hong Kong is well-known for its congested streets, and when it rains, traffic congestion worsens. The roads become slick, and accidents may occur more frequently, causing commutes, and travel plans to be disrupted. While the public transportation system in Hong Kong is generally efficient, excessive rain and flooding can cause disruptions in railway services, bus routes, and ferry schedules. This is particularly aggravating for commuters who rely on these services to travel around town.
Crowded streets and umbrella traffic
During rainy days, many people use umbrellas, which can be inconvenient when negotiating packed streets and public transportation. Indoors, wet umbrellas can also cause slick floors. Large or poorly positioned umbrellas can impede others' views, making it difficult to maneuver busy situations securely. Furthermore, some people may forget or fail to bring their wet umbrellas with them while entering buildings, leaving a path of wet floors and contributing to umbrella litter at doors.
Crowded and wet indoor spaces
Despite the rain, humidity levels can remain high, making it challenging to keep indoor spaces dry and comfortable. Condensation may form on windows, and mold and mildew can become problematic if not adequately managed. Tourists and locals alike may seek refuge at indoor attractions, resulting in overcrowding and increased wait times.
Flooding and landslide risks
During heavy rain, low-lying neighborhoods and poorly drained streets may flood. This can make walking and driving difficult, and it may also cause property and infrastructure damage. The steep landscape of Hong Kong makes it vulnerable to landslides under heavy rain, particularly in regions with weak soil stability. This can be hazardous to residents and may result in property damage or even death.
To make the most of a trip during the rainy season in Hong Kong, tourists should pack appropriate rain gear, plan indoor activities, and keep an eye on weather forecasts to stay prepared for any potential disruptions.
Visit a museum
Museums offer a dry and safe atmosphere where visitors can escape the rain and keep warm indoors. It's a great way to pass the time when outdoor activities aren't tempting due to the weather. Hong Kong has a rich history and diverse culture, frequently displayed in museums. On a rainy day, visiting a museum allows you to delve into the city's heritage, art, science, or specific subjects, providing an instructive and rewarding experience.
Hong Kong Museum of History: This museum showcases Hong Kong's rich history and culture through interactive exhibits and displays. Visitors can explore the city's development, folk culture, and significant historical events.
Hong Kong Science Museum: Ideal for families and science enthusiasts, this museum features a wide range of interactive exhibits related to science, technology, and the natural world. It's a fun and educational experience for both children and adults.
Hong Kong Heritage Museum: Celebrating the city's intangible cultural heritage, this museum highlights traditional customs, performing arts, and local craftsmanship through various exhibitions and live demonstrations.
Hong Kong Maritime Museum: Located in Central, this museum delves into the city's maritime history, exploring its connection to the sea and the development of its port.
Flagstaff House Museum of Tea Ware: Situated in Hong Kong Park, this museum focuses on Chinese tea culture and features an impressive collection of teaware dating back centuries.
Hong Kong Museum of Art: While currently undergoing renovation, this museum typically exhibits a wide range of art, including traditional Chinese art, contemporary works, and international pieces.
Hong Kong Space Museum: A must-visit for space enthusiasts, this museum offers astronomy and space science exhibits and an eye-catching planetarium.
Hong Kong Railway Museum: Located in Tai Po, this museum showcases the history of Hong Kong's railways and offers a chance to explore vintage trains and locomotives.
Dr. Sun Yat-sen Museum: Dedicated to the life and accomplishments of Dr. Sun Yat-sen, the museum sheds light on his role in the 1911 Chinese Revolution and the founding of modern China.
Hong Kong Police Museum: For those interested in law enforcement and crime history, this museum provides insight into the Hong Kong Police Force's history and operations.
Go shopping
Rainy days keep some people at home, resulting in fewer crowds at shopping malls. This results in a more relaxing and enjoyable shopping environment, with shorter lines and less rush and bustle. Shopping malls in Hong Kong frequently provide more than just retail businesses. Indoor entertainment alternatives such as movies, arcades, and food courts are available, making it a terrific way to pass your time on a rainy day. Even if you don't intend to buy anything, window shopping in Hong Kong is a pleasure.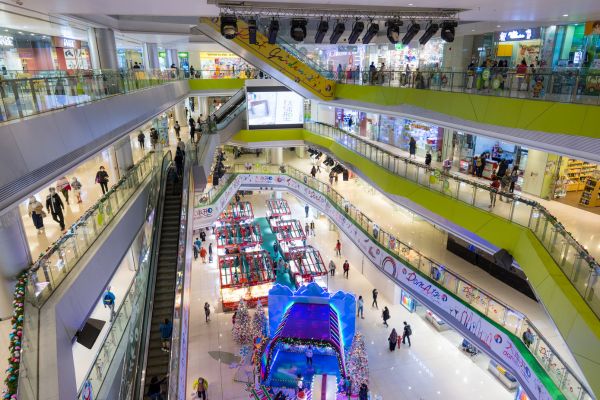 Many commercial centers have beautiful displays and unusual businesses that are fun to explore, rain or shine. Hong Kong's urban layout includes many covered walkways, making traveling easier and safer on rainy days.
Some popular options include the IFC Mall, Harbour City, and Pacific Place.
Explore the city's temples and shrines
Exploring Hong Kong's temples and shrines on a rainy day is an excellent opportunity to learn about the city's rich cultural heritage while staying dry. The tranquil atmosphere, beautiful architecture, and spiritual rites give a one-of-a-kind and reflective experience.
Wong Tai Sin Temple, famed for its brilliant colors and fortune-telling rituals; Man Mo Temple, a historical monument dedicated to the Gods of Literature and War; and Po Lin Monastery, home to the iconic Tian Tan Buddha, are just a few examples of temples and shrines worth seeing. These locations provide glimpses into the city's traditions and a pleasant respite from the rain.
Take a spa day
A spa day on a rainy day in Hong Kong is great for seeking refuge and relaxation from the elements. Spa treatments provide a relaxing escape that rejuvenates both the body and the mind. The Four Seasons Spa, famed for its lavish treatments and magnificent harbor views; The Peninsula Spa, which offers a blend of traditional Chinese therapies and modern techniques; and Chuan Spa at Cordis Hong Kong, recognized for its holistic approach to wellness, are also popular destinations.
These luxurious spas are the ideal place to escape the rain, pamper oneself, and spend the day in absolute luxury and indulgence.
Visit a theme park
A theme park is great for a rainy day in Hong Kong since it provides indoor attractions and entertainment, keeping you dry and entertained. Hong Kong Disneyland, for example, has covered rides, indoor shows, and themed areas, assuring a delightful experience rain or shine.
Another great option is Ocean Park Hong Kong, which has a mix of indoor and outdoor activities, animal displays, and thrilling rides. Both parks offer a fun-filled day for families and tourists, with various things to enjoy regardless of the weather, making it a fantastic Hong Kong rainy day adventure.
Take a cooking class
On a rainy day in Hong Kong, trying cooking lessons is ideal as it allows you to learn and create delicious dishes indoors while escaping the rain. Popular destinations for cooking classes include the ABC Cooking Studio, offering a range of classes from traditional Cantonese cuisine to international dishes.
Another popular option is the Towngas Cooking Centre, known for its professional instructors and diverse cooking workshops. Engaging in cooking lessons provides a fun and educational activity and allows you to savor your homemade culinary creations, making it a delightful and rewarding experience on a rainy day.
Have a dim sum brunch
A dim sum brunch is excellent on a rainy day in Hong Kong since it provides a comfortable and comforting dining experience indoors. Dim sum is a renowned Cantonese culinary tradition best enjoyed at a crowded teahouse or restaurant. Tim Ho Wan is a famous venue noted for its Michelin-starred dim sum and reasonable costs.
A rainy day in Hong Kong is ideal for indulging in the city's culinary delights by savoring a selection of exquisite dumplings and steamed dishes.
Have a movie marathon
On a rainy day in Hong Kong, movie binge-watching is ideal as it provides a cozy and entertaining indoor activity. Popular destinations for enjoying movies include cinema complexes like Broadway Cinematheque in Yau Ma Tei, known for its diverse film selections and film festivals.
Another option is The Grand Cinema in Elements, offering a luxurious movie-watching experience with comfortable seating and state-of-the-art facilities. Binge-watching your favorite films or exploring new releases is a perfect way to stay entertained and immersed in the world of cinema, making it a delightful rainy day pastime in Hong Kong.
Try indoor sports
Indoor sports are perfect on a wet day in Hong Kong since they provide a fun and active way to stay indoors and avoid rain. The Hong Kong Jockey Club Aerial Sports Centre, where you can enjoy rock climbing and bouldering, and Stadium Ice Skating Rink in Yau Ma Tei, a thrilling ice skating experience, are popular indoor sports venues.
Basketball City in Mong Kok is an indoor basketball court where people may shoot hoops and play games. Indoor sports keep you physically active and allow you to spend time with friends or family, making it an ideal rainy-day activity.
Glacier Ice Rink in Festival Walk offers a fantastic ice skating experience for those interested. Indoor sports keep you physically active and allow you to mingle and enjoy recreational activities with friends or family, making them an excellent alternative for a wet day in Hong Kong.
Learn something new
Learning something new on a rainy day in Hong Kong is perfect because it allows you to make productive use of your indoor time. Art workshops at The Hong Kong Art School, where you can explore numerous artistic approaches, are popular places to develop new talents.
Language classes are available at the Hong Kong Institute of Languages for anyone interested in learning a new language. Participating in educational activities broadens your horizons, boosts your creativity, and provides a meaningful way to pass the time on a rainy day. Acquiring new information, whether in art, language, cooking, or any other subject, maybe both pleasant and intellectually gratifying.
Visit the library
Visiting the library on a wet day in Hong Kong is great since it provides a calm and warm environment for reading and learning. The Hong Kong Central Library in Causeway Bay is a popular library location recognized for its wide collection and comfortable reading areas.
The Kowloon Public Library in Tsim Sha Tsui is another alternative, with various books and materials. The library is a tranquil haven from the rain, where you may immerse yourself in books, learn about new topics, or catch up on reading. It's an excellent way to spend a quiet and educational day indoors.
Making the most of your time and adapting to conditions on a wet day in Hong Kong offers for a satisfying experience regardless of the weather. There are several indoor things to do, whether exploring museums to appreciate cultural heritage, indulging in a spa day for relaxation, or learning new skills at seminars.
Embracing the wet atmosphere while touring temples or participating in indoor sports creates a one-of-a-kind and memorable trip. The ability to change plans and explore alternate activities heightens the thrill of discovery and deepens the rainy-day experience. Rain in Hong Kong does not have to dampen spirits; it may be used to engage in various indoor activities and create lasting memories.