Hong Kong is a popular destination to work as a domestic worker. The city's hectic lifestyle suits well with having an extra pair of hands to help out household chores tend to young children and other domestic duties as parents are both out at work. Not every employer, though, is in that situation — some employers hire caregivers to care for elderly family members or look after their pets.
Overview
According to data, there are about 300,000 domestic workers employed in Hong Kong, a significant number relative to the city's entire population. Most of them come from the Philippines and Indonesia; the rest of the domestic worker population comes from Thailand, India, and a few other countries.
For Filipino and Indonesian workers, Hong Kong offers advantages such as proximity to home than, say, Middle East countries and mandates slightly higher wages than Malaysia or Singapore. Adding to that is the strong support from governments of the labor exporting nations as well as a strong sense of community among migrant workers.
Before departing to Hong Kong
Just like any other worker crossing borders to seek employment, domestic workers must comply with labor laws and fulfill all documentary and health requirements.
For instance, the Hong Kong Immigration Department's requirements for domestic workers from abroad include visa application, standard employment contract, employer's ID card, and proof of financial position. Check out the complete list of requirements here.
Governments also want to ensure proper documentation of migrant workers before they board their flights to workplaces that may have labor laws different from home. For example, the Philippines require outgoing workers to attend seminars, have a clean bill of health, and signed up for government programs for overseas workers. Here's a list of requirements for Filipino domestic helpers, classified here as low-skilled workers.
Placing domestic workers involves multiple stakeholders: the labor exporting and destination governments, intermediaries such as employment agencies, healthcare institutions, and the job applicants themselves. It takes a lot of effort, investment, and sacrifice to be employed overseas. No wonder domestic workers, as well as other migrant laborers, are often accorded as heroes not just for their sacrifice but also for their contributions to the domestic economy.
Before flying into Hong Kong, domestic workers must have completed all requirements, attended seminars, and paid all necessary fees.
One-way air ticket to Hong Kong is typically paid for by the employer, with the return ticket granted upon the conclusion of the helper's duties.
It is not expected for domestic workers to bring huge pieces of luggage when they fly into Hong Kong. Apartments are mostly small enough to accommodate extra items, so bringing a reasonable amount of clothing, personal items, and importantly, travel documents and air tickets should be enough.
Airlines such as Cathay Pacific, Cathay Dragon, Philippine Airlines, Garuda Indonesia, Air Asia, Cebu Pacific, and a few more offer daily flights to Hong Kong. Certain airlines offer special prices for domestic helper travelers. But more than just the selection of airlines based on fare rates, booking should also consider the convenience of traveler; passengers on flights arriving late night can expect fewer or less frequent transport connections out of Hong Kong International Airport.
On the day of departure, the domestic workers must be at the airport early enough to ensure that there is enough time to undergo checks. Please ensure that all necessary documents (passport, relevant visa and employment contract) and other supporting documents (birth certificates, payment receipts, employment reference, etc.) and photocopies of them neatly packed in an envelope come in handy for immigration officers to look into.
Depending on luggage allowance, passengers must also be mindful of the weight of their bags to avoid surcharges. Also, ensure that the traveler does not include any prohibited items inside checked-in or carry-on luggage. Drugs, firearms and toxic chemicals are obvious no-no's , but items such as lithium batteries and power banks are to be handled properly to avoid unnecessary delays and possible violations that could lead to trouble. A list of prohibited items in Hong Kong can be found on this page.
At the immigration counter, the officer may ask a few questions relating to the employment, compliance with recruitment procedure, and validity of documents. The domestic helper must be confident to answer questions and be ready to pull out supporting document if necessary. Answers in polite yet firm stance helps create an assurance that the traveling domestic worker is knowledgeable enough to get through the counter. In general, immigration officers are not there to make life difficult, but ensure employment follows the mandated procedure and avoid becoming a victim of criminal syndicates such as human traffickers.
A prior arrangement with the employment agency will have someone to meet the arriving domestic helper at the airport.  An agency staff will be waiting at the airport, possibly with the name of the arriving domestic worker in a sign. It would be good to get the contact number of the awaiting staff if needed (flight delayed, worker held by immigration or customs, and other unforeseen circumstances). Depending on the airline's assigned baggage claim conveyor, the helper may get out of either A or B hall. Thankfully, Hong Kong International Airport has an area designated as a meeting place between awaiting staff and the arriving passenger they have never met before.
Arriving in Hong Kong
For domestic workers traveling for the first time from the Philippines to Hong Kong, it can be an overwhelming experience as Hong Kong International Airport is huge and can get the arriving passenger disoriented. However, airport staff strategically positioned all over the airport arrival area can answer questions. There are also signs placed so travelers can simply follow them.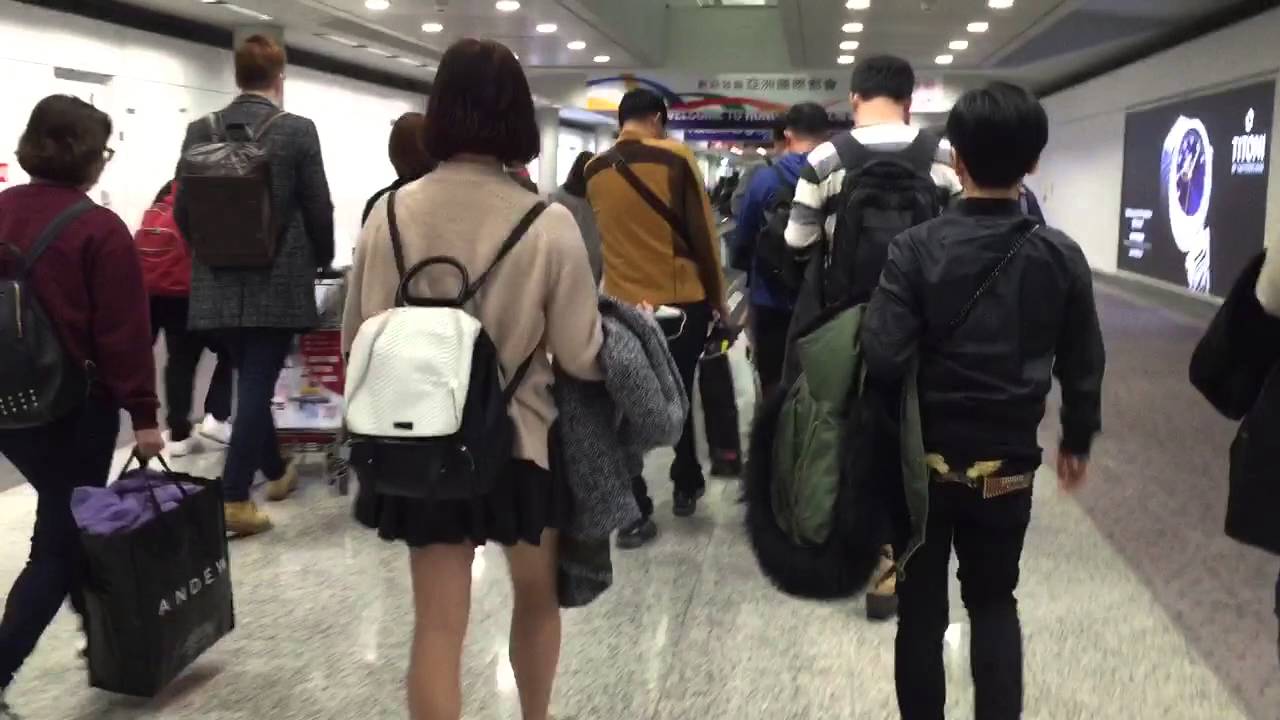 Immigration: The first stop after disembarking from the airplane is the immigration counter. Once you get past the duty-free shops, you'll find the Immigration counters both manned for visitors/tourists or self-serviced (for residents who carry smart ID cards). Follow the line for visitors and prepare your passport and visa. Once it is your turn, the officer will check your passport along with your visa (stuck in one of your passport pages). Have your employment contract ready in case the officer needs to check it but don't hand it over unless he or she asks for it.
Luggage claim: Once you get clearance from the Immigration counter, go forward and take the front passage way. This step leads to the baggage claim section. There's a large hanging screen that displays flights and assigned baggage claim conveyor. Check your boarding pass to verify your flight number.
Customs: Once you have claimed your luggage, you can proceed further to get past the Hong Kong Customs. In case you need to declare something (extra cash, cigarettes, and alcohol whose value/volume exceed limits), you may pass by the red lane. Such likelihood is low, so you can simply pass by the green "nothing to declare" lane although some officers may ask anyone to place their luggage through the security screen.
Meeting point: Once you exit the customs area, you'll find yourself in the arrival concourse. This place is where you will meet an agency staff to bring you to the agency office, temporary accommodation or directly to your employer. Depending on the instruction of the agency staff you haven't met yet, you may wait near the meeting place and look for someone carrying your name in a note.
Arranging for someone to meet you at the airport
In case you cannot find the person assigned to meet you, you may approach the airport customer service booth. Better yet, you can reach out to your government's consulate for possible assistance:
Philippine Consulate General in Hong Kong
Phone: 2823 8500
Consulate General of the Republic of Indonesia
Phone: 3651 0200
Once you arrive at your employer's residence, you will be meeting your employer and his/her family. Depending on your agreement, it's either you'll be a stay-in domestic worker, which means you'll be staying in the residence of your employer. Otherwise you'll be staying in a different accommodation provided by your employer.
This first encounter is crucial as it will be the basis of an employer and helper's relationship dynamic.
Orientation at your new workplace
Your first day with your employer will include an orientation of your work and the introduction of other family members and your role in the family. Some families employ more than one helper so one can focus certain jobs such as looking after newborn babies, cooking, or general housework. But most families employ only one helper, which means you may have to do everything as told.
Employers may set the following house rules:
Tasks: what specific tasks you'll do during a typical day. Tasks may include sending and fetching young children from school, daily trips to the market or walking the dogs at specific hours of the day. This is a good time to set straight to whom should you be accountable to; nobody wants to work for too many bosses.
Children or elderly family members: what foods to eat and avoid especially if they have allergies, tutorials for school lessons, rules on usage of devices, usage of their Octopus cards, sleeping, school arrangements during bad weather and waking time. For elderly family members, you may be told about medications, allergies, scheduled visits to the doctor or local playground for exercise.
Wages and benefits: when will you receive your wage and in what manner (cash, bank transfer), when is your day off, whether you'll be eating with the family or receive food allowance and your insurance coverage. You may also ask about the arrangement on long service pay, employment renewal, and termination of contract. Reasonable bosses should be fine with it.
Working hours: what time you're expected to wake up and hit the bed. This may also include agreed curfew time during days off. (Domestic helpers are allowed one full day off every week, so imposing unreasonable curfews may be a breach of this law.)
Use of items at home: whether you need to buy your stuff (shampoo, crackers, etc.) or freely use what's available at home, instruction on usage, or permission to use electric appliances or wifi, and restrictions on using mobile phones during working hours. Be aware that in case you break or lose an item at home (say that precious flower vase), you'll only be liable of up to HK$300.
Safety and labor laws: rules on borrowing money, allowing entry of people other than family members at home, restrictions on cleaning windows, requests to clean the house of someone else not mentioned in your employment contract or working part-time during days off, or coverage of your insurance (death, accident and health).
Getting around: use of access keys at home and estate, nearby bus stops and transport links, location of supermarket, church, how to use Octopus card, etc. This should also include your appointment to the Immigration Department to get a new Hong Kong ID.
Communication: which numbers to call in case of emergency, typical hours of communication, who to ask in case of questions.
It may be overwhelming at the beginning as you need to absorb so much information at such short notice, not to mention your adjustment to local culture, language barrier, and missing your folks back home. But in the end, it is a necessary sacrifice, and in no time soon, you'll get used to it.
Word of advice
Be informed of the most common reasons why domestic helpers are terminated from their jobs in Hong Kong and avoid such pitfalls. Likewise, be aware of some employer behaviors that violate the rights of their helpers and know where to file a complaint for wage disputes (especially on long service pay) or employer abuse.
Good luck!