You'll never want to fix what's not broken. But in the case of Hong Kong's railway network, whose by-laws have been outdated by decades, a review is long overdue.
The MTR has earned praises here and abroad for its efficiency and cleanliness, though recent mishaps — technical problems that caused breakdowns and accusations of greed pinned on onerous fare calculation mechanisms — has dented such lofty reputation. So it has opened up for discussion updates or phasing out of obsolete rules to keep up with modern times and as South China Morning Post quotes it "address the reality" that trains have become more crowded.
Speaking of crowded trains, one can only have limited levels of patience and tolerance as the uninitiated passengers block doors or clog escalators and travelers late for work or school bark at station attendants for restraining them from boarding carriages filled to the brim. So this "address the reality" might translate to impatient passengers swearing on trains.
Also, the previously outlawed act of filming on trains is up for review. When it was enacted, it was in a different era when mobile phone technology was primitive by today's standards; now, almost every mobile phone is equipped with video device often used for selfies or, at the right moment, capture viral incidents to share on social media. And to shame culprits who don't give up seats or bring in oversized items.
The move to adjust by-laws with current times is a welcome move as resources need to be allocated to where it's more needed. If the no-swearing policy yielded no positive results, as people swear out of frustration — say technical problems or lack of train frequency, the railway company needs to address the cause of frustration rather than focus on people's emotions.
List of MTR stations with toilet facilities
Proposed changes will be submitted to the Legislative Council for review. There was no such change in MTR policy since it merged with the Kowloon-Canton Railway in 2007. According to SCMP, a key proposal is to relax curbs on abusive language, which would be limited to more offensive and malicious cases that might annoy or disturb passengers, one source said.
"There have been mixed views about this as it's very common for passengers to blurt out expletives during private conversations. Some feel offended while many others may think this is just a form of expression," the source said.
"Actually frontline staff often come across passengers who curse them. As long as the use of foul language doesn't pose a threat or cause a disturbance to other passengers, they will be let off."
Swearing currently carries a fine of HK$5,000 which, under the proposed changes, will be reduced to HK$2,000. People who post bills or found hawking goods inside MTR premises will no longer be subject to prison sentences. Perhaps the most absurd of the MTR by-laws: loitering, which is a very common practice within MTR as people often wait (and loiter) to meet other people.
Taking mobile phone video as an offense is now obsolete as advanced mobile phone technology has even replaced traditional cameras when taking photos and videos. Most of such videos are presumed to be acceptable — selfies, group photos — and should be considered a common activity. Other than that, upksirt photos should still be considered a criminal act.
Attention ladies: 17 upskirt blackspots in Hong Kong
However, there are laws that should be kept in place to preserve what the MTR is popularly known for and seldom observed in railway lines in many other places: cleanliness. No easing of restrictions shall be made on eating and drinking on trains which have become more widespread. People have been used to not eating and appreciating the surrounding devoid of foul smell an vandalized seats. Also people bringing oversized items like household items and other bulky materials make the carriages more crowded. Remember than the MTR is meant for passengers (and a bit of their luggage) and not cargoes.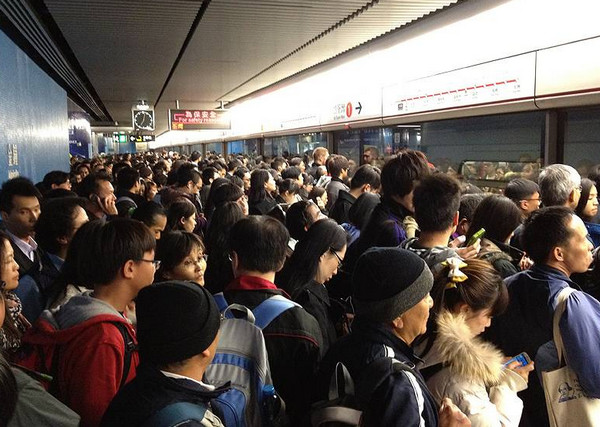 While no data was available on number of people prosecuted for swearing, the total number of prosecutions has skyrocketed from 1,030 in 2014 to 2,643 in 2015.
For many expats like us who are not aware of swear words locals often blurt out, we are also consumed with our mobile devices, often plugging in our headphones in the process — so it's like nothing's happened.