Hong Kong's high cost of living extends beyond the pricey homes. While the city provides great transport network from subway to double deckers to minibuses, fares have also creeped up in recent years. This year, thankfully, the government has included a rebate scheme to help alleviate transport expenses for commuters.
Although this is not as generous as the HK$6,000 cash handout granted to permanent residents in 2011, it's a welcome relief to travelers whose daily commute hassles may also include occasional long wait, crowding and service breakdown. The government allocated HK$2.3 billion for this program.
Overview
The Hong Kong Public Transport subsidy scheme is a transport rebate similar to loyalty rewards program locals are familiar with: stamps for redemption at Wellcome or Asiamiles mileage points. Starting on the first day of 2019, a subsidy is computed and granted based on an Octopus card holder's transport expense.
How it works
A public transport passenger who uses local transport system such the MTR, double decker bus, among others, using an Octopus card can receive the subsidy of 25% of the total amount exceeding HK$400. The mathematical formula to compute the subsidy amount is:
Subsidy = (Amount spent in a month – HK$400) * 25%
For example, if he or she spends a monthly total HK$1,200 for double decker bus, minibus and light rail in his/her daily commute:
Subsidy = (HK$1,200 – HK$400) * 25%
Subsidy = HK$200
Subsidy is capped at HK$300 which means if you spend HK$2,000 on Octopus card for that month, you'll only receive HK$300 and not HK$400 based on the formula above.
Who are eligible to receive this transport subsidy
All Octopus cards are eligible to receive subsidy. There is no required registration to join the scheme. Computation of rebate is already programmed every time they use public transport system.
Coverage of transport rebate scheme
Computation for the subsidy includes Octopus card payment for the following transport systems:
MTR
Double decker buses
Franchised buses (point to point buses that use Octopus card payment)
Designated red minibuses
Small ferries that operate within outlying islands.
For monthly passes, registration using Octopus can also be made by presenting the physical ticket at designated reader and then tap the Octopus card for payment.
The more you use your Octopus for that month, the higher subsidy you'll receive — as long as your expense exceeds HK$400.
Not included in coverage
Not all Octopus card payments are eligible. Likewise, not all transport payments are included.
Non-transport expenses using the Octopus card such as payment for McDonald's, ParknShop or 7-Eleven.
Cash payments (single journey travel on MTR or coins paid on buses)
Taxi payments
Day passes on Rickshaw Sightseeing buses
Temporary Octopus cards
Fares for bicycles, freight or pets on ferries
How to check subsidy value
Octopus card users may check the value of their subsidy using the Octopus mobile app or calling the hotline 2969 5500.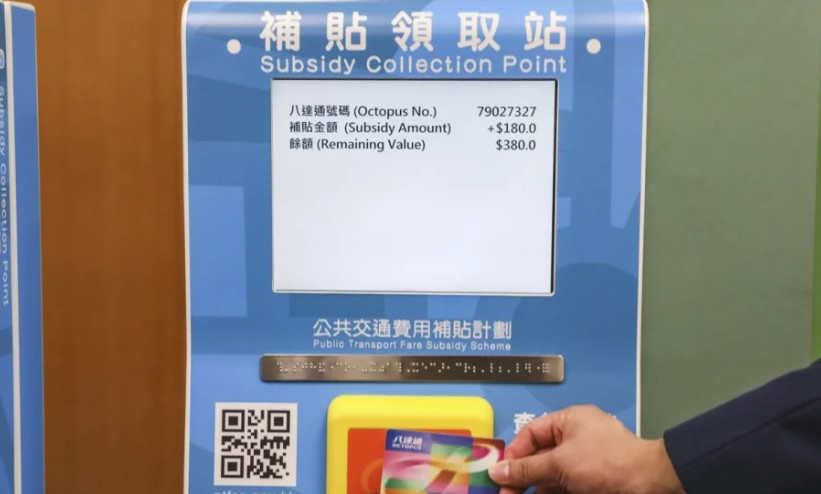 How to claim your subsidy
Every 16th of the month, subsidies for the previous month are issued. This can be claimed at the following areas
Designated collection points in the MTR (blue colored terminals)
Customer service counters at light rail stations and ferry piers
7-Eleven, Wellcome and Circle K shops
Octopus card mobile app
You don't have to rush to these collection points every 16th of the month. Your subsidy for the previous month can be collected within three months from the date of issue. For example, for January 2019, you can collected your subsidy starting 16 February 2019 until to three months afterwards. After such date, your subsidy will be forfeited.