Hong Kong's matured, if not saturated, loyalty programs come in different shapes and sizes.
Like the proverbial 'there is an app for that' we could almost say the same thing about loyalty rewards programs in the city. As old-school loyalty program like Asiamiles loses its luster and charm in its attempt to keep passengers from flying other airlines since Cathay Pacific's fares are often a stratosphere above the competition, there are blossoming programs that sparkle, even for a short period of time.
Among the things Hong Kong supermarkets are known for are promotions that help pull and retain customers are loyal followers of brand. ParknShop has its so-called MoneyBack card that allows customers to pile cash points every time they shop for grocery and other items at its over 300 supermarkets spread across the city. By simply showing these MoneyBack cards to the cashier who promptly swipes it into the reader, your account gets whatever value proportional to the total amount you paid.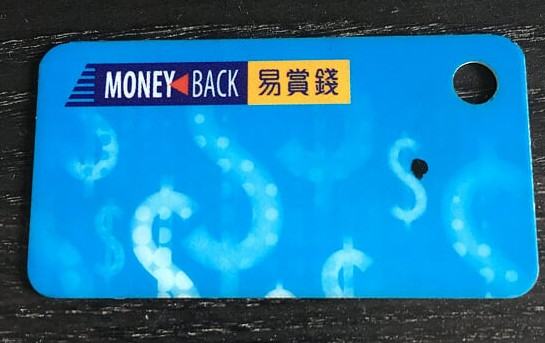 ParknShop is part of A.S. Watson and owned by Li Ka Shing's Hutchison Whampoa conglomerate. Along with its sister brands Taste, fusion, great, appliance outlet Fortress and pharmacy chain Watsons, these MoneyBack cards can also earn points.
Your account earn more points up to a point where they can be redeemed through various ways such as special offer on selected products under the Weekly Super redemption, product redemption mostly on kitchen and tableware products, cash coupon you can use to buy products at ParknShop or admission to Ocean Park. There is no need to match the required number of points as it's also possible to augment the points shortfall with cash.
And if you're kind enough to donate those points, charity institutions such as YWCA and Community Chest may avail of whatever value your donation may hold.
At strategic locations within the shop, there are card readers that notify MoneyBack cardholders how many points their cards hold, helping them decide whether to redeem them or keep them. As a consumer, it makes sense to stick to ParknShop (or any other shop with similar rebate mechanism) from a rewards point of view. In short the more I buy at ParknShop, the more virtual points I collect.
On the other hand, rival Wellcome's Happy Stamps promotion is a regular fixture with Dairy Farm's grocery outlets with luggage sets, bathroom towels and knife sets are among its rewards. The mechanics is simple: for every purchase of HK$60 a customer gets a sticker to place on a sticker pad obtainable at the store. To those who wish to expedite the collection, weekends — typically a crowded and time-consuming experience for shoppers — gets purchases of HK$350 will get customers double sticker bonus.
Wellcome's Octopus Reward$ program which does not require additional card — you utilize your own Octopus card — kind of pales in comparison with its ParknShop counterpart partly because it has fewer participating outlets — with only Wellcome and Market Place by Jasons, which have few branches in Hong Kong, participate. So the Happy Stamps offer apparently becomes more attractive, as it's more transparent; you'll see and touch the rewards on display, and you'll receive the stickers yourself.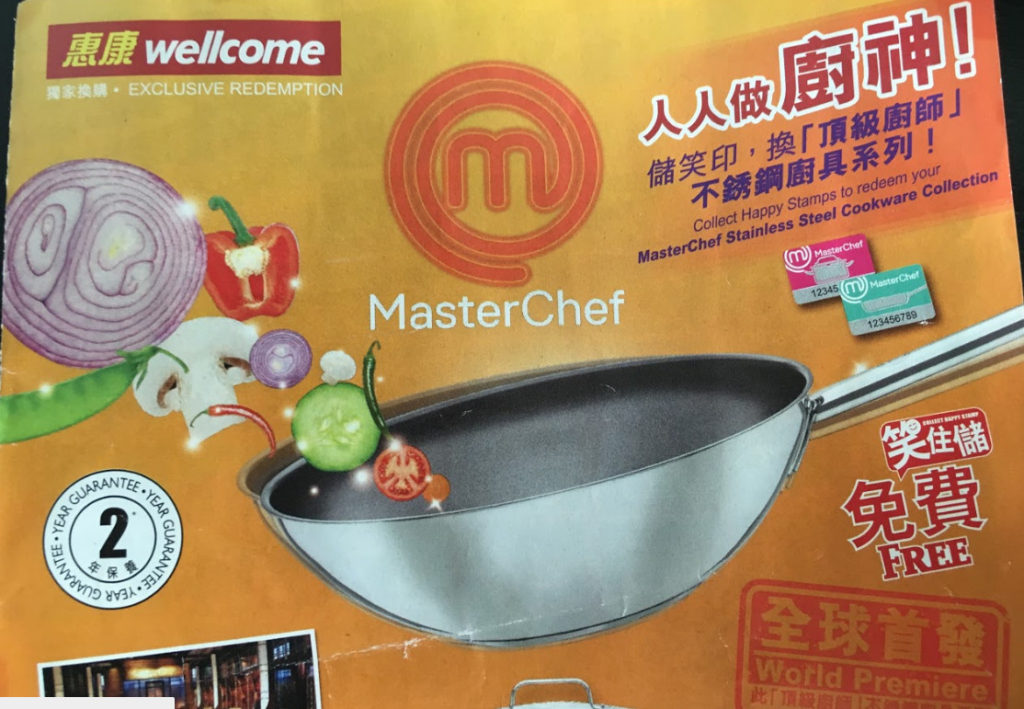 These stamps are given to customers upon purchases based on value of their purchased grocery. For example, if a sticker is given for every HK$50 purchase, you get four stickers if your grocery is worth HK$219. There are also double rewards promotions usually every weekends, to encourage customers to make one-off purchases during the most crowded time of the week.
Stickers boards are available for customers to compile the stickers, as if revisiting the old habit of stamp collection. Once a prescribed number of stickers are reached, an equivalent reward shall be available for free or for a fraction of the value of the reward.
However, the problem with this Happy Stamps is that its promotion is short-lived; to avail of your desired prize often requires more stickers, so you'll need to do grocery in bulk multiple times to get those stickers to reach the desired number. Unfortunately, if you miss out on these prizes, there's no consolation for not reaching the minimum sticker quantity. As a result, all your efforts are virtually wasted, as promotions only last a few months at a time.
Apart from Wellcome's Octopus Reward$ loyalty program which entitles Octopus card holders to points every time they make a purchase at Wellcome Supermarket regardless of payment methods to enjoy discounts or freebies at the cashier, the Dairy Farm supermarket chain also entices customers to keep buying at Wellcome, or its affiliated shops, through its so-called Happy Stamps.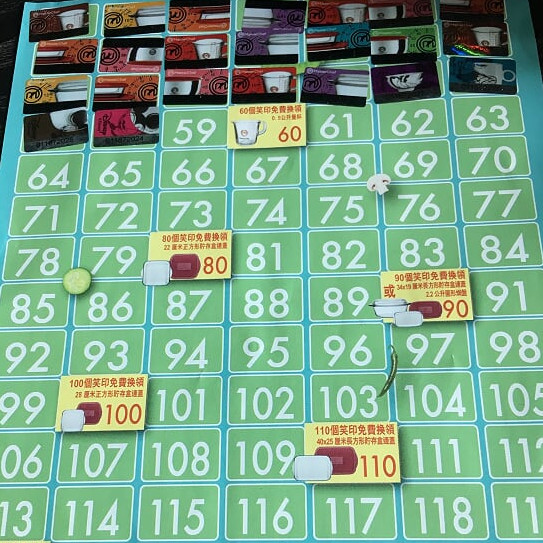 Goodbye measuring cup. We failed to reach you by promotion expiry date.
Rewards vary from kitchen appliances, travel accessories or bedroom items.
But since there is an expiration in the redemption of these 'rewards' customers are under pressure to fill those boards. This means spending more at Wellcome. Small purchases below the minimum sticker amount is deemed a fruitless trip to the supermarket. There are people who simply wait at the shop exits asking for stickers from other customers who decide the collection effort is not worth the trouble.
Each promotion lasts less than a year, so while the pressure to collect stickers doesn't come as pressure to frequent buyers, those who don't have the means nor the appetite for bulk purchase are the ones who appear to need more of these reward items.
So what happens if the sticker promotion expires and stickers don't reach the desired number? Nothing happens. The sticker board gets discarded and the reward prize goes unclaimed. But rest assured Wellcome's cash register have become almost exclusively the sole beneficiary of the entire exercise.