Playing outside is very fun for children and even adults however, with the growing heat that we are feeling right now, the outside 'under the sun' playtime is becoming really tiresome even for children therefore, here are some of the best indoor playrooms in Hong Kong.
Epic Land- Discovery bay
Epic Land is the biggest indoor family entertainment center open in DB North Plaza. The playroom is 14, 000 square feet that offers not only fun but educational activities for your toddlers. Things like tube slides, air trek, rock climbing, IClisk educational interactive activities, playground, toddler area and many more.
D Park – Tseun Wan
The 630,000 square feet of shopping mall area has more than clothes and food with more than 90% of tenants being children-related. This 'park' is from the makers of K11 Mall and dedicates the mall for the kids with 33 stores having well-known international kids brands. The malls has playgrounds for children of different ages, a children's train ride and push chair parking outside their many F&B outlets.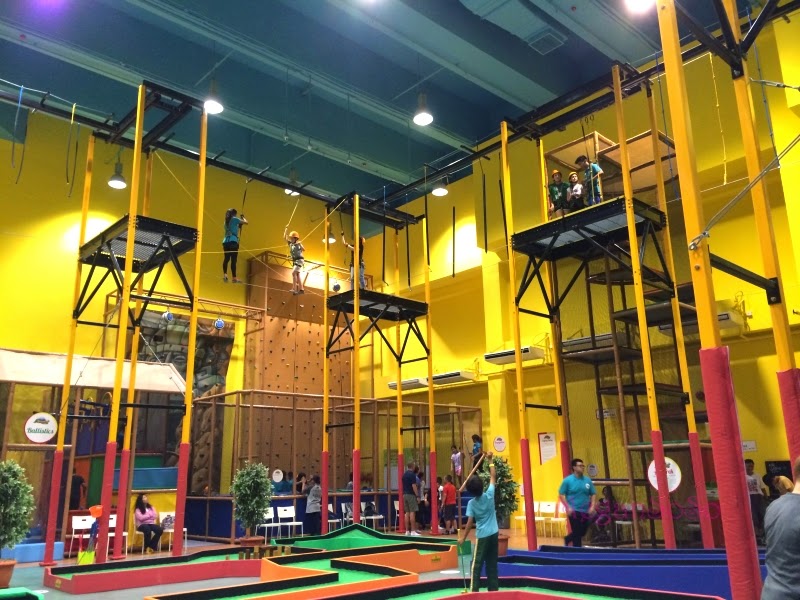 Bounce – Kowloon Bay
Bounce Inc. is not like your typical children's playground. Their playground is loaded with urban playground housed with more than 80 interconnected trampolines. Unlike many indoor playgrounds, there are not hard surfaces that could injure your children; it is purely a bouncy heaven for children. Your children can enjoy an aerial sports, acrobatic training for a show, as many activities as they could come up with in this playground.
Dream Come True Education Park – The Airport
Does your child play chef in your kitchen hurting not only themselves but also your precious kitchen equipment? Worry no more, you can just simply bring them to Dream Come True Education Park at The Airport where they can role-play as their dream jobs while broadening their horizons, develop independence, teamwork and social skills. The facilities are very realistic such as their airline, nursery, hospital, fashion show, spaceship, fire truck, ambulance, kitchen and more!

Velodrome Indoor Playroon – Tseung Kwan O
Like Bounce Inc, Velodrome offers soft landings for your stumbling toddlers. The whole playroom is padded making it ideal for early walker. It offers plenty of room for your toddlers to explore without hurting themselves from running older children or towering toys. You want to know the best part is? it is totally free. If and only if your kids gets bored, you can go inside and watch cyclists do flips that your children would find fascinating, or you can also head out and explore the Velodrome Park.
RYZE – Northpoint.
This is for much older children who are just full of unused energy at their disposal. The Ryze Ultimate Trampoline Park in North Point is filled with 50 interconnecting trampolines that not only offers jumping experience but also a basketball hoops, giant foam pits, and many many more.
Wise Kids – Cyberport
If you have both toddlers and babies, it gets pretty expensive to find a playroom separately for each children, well worry no more, Wise Kids offers a spacious space for your children from ages 0-8 years old. You can book a playtime for your kids. Weekday bookings can be made hours or even minutes before arriving.

Little Beetles – Wan Chai
Your children can pretty much do whatever they want in this playhouse, they can play or learn at the same time. The Little Beetles is found in the Hope Well Centre and is filled with airplane swing for toddlers, beanbags, wooden educational toys from Haba, a German brand, and your children can enjoy all of this for as little as HK$50 for half hour.