Hong Kong is renowned for its vibrant street food culture, where culinary delights from various cuisines converge to create a gastronomic adventure.
From mouthwatering dim sum to sizzling skewers and steaming bowls of noodles, the city's streets are lined with food stalls and hawkers offering many delicious treats. This guide aims to provide a comprehensive overview of the best street food experiences in Hong Kong, along with tips on where to find them and how to navigate the local food scene.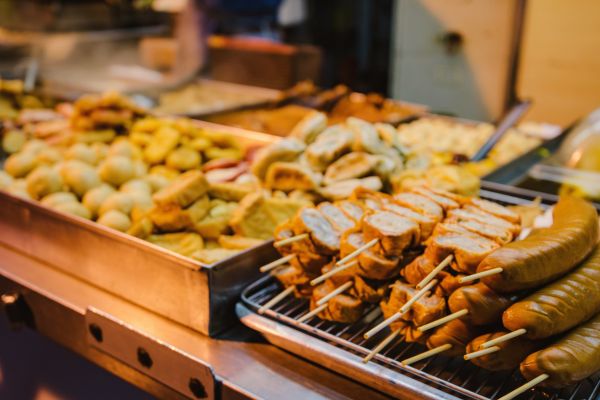 Must-Try Street Food
Dim Sum: Begin your culinary journey with the quintessential Hong Kong food experience. Dim sum is a style of Cantonese cuisine that features bite-sized portions of steamed, fried, or baked dishes. Don't miss classics like siu mai (pork dumplings), har gow (shrimp dumplings), and char siu bao (barbecue pork buns). Visit Tim Ho Wan, the world's cheapest Michelin-starred restaurant, or Lin Heung Tea House for an authentic dim sum experience.
Egg Waffles (Gai Daan Jai): A popular street snack, these bubble-shaped waffles are crispy on the outside and fluffy on the inside. Look out for street vendors using traditional cast iron molds to create the perfect texture. Try them plain or opt for unique flavors like chocolate, green tea, or even filled with ice cream for a delightful twist.
Fish Balls and Siu Mai: Found in numerous street food stalls, fish balls are made from a mixture of fish paste, starch, and seasonings, skewered on bamboo sticks, and then cooked in hot broth. Accompany them with siu mai, a type of pork and shrimp dumpling, for a satisfying combination.
Curry Fish Balls: A beloved Hong Kong street food staple, curry fish balls are cooked in a piquant curry sauce that adds a delightful kick to the tender fish balls. Look for stalls offering different spice levels and experiment with the heat that suits your taste buds.
Rice Rolls (Cheung Fun): Rice rolls are delicate, silky rice noodles filled with ingredients like barbecued pork, shrimp, or vegetables. They are usually drizzled with a sweet soy sauce for added flavor. Sample this delectable dish at popular dim sum restaurants like Lin Heung Kui or street food stalls in Sham Shui Po.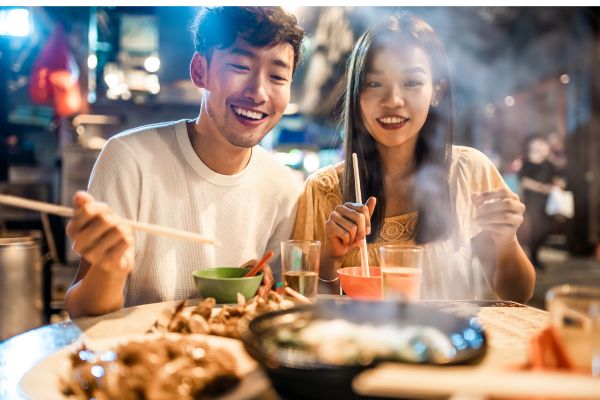 Where to Find Street Foods in Hong Kong
Temple Street Night Market: Located in Jordan, Temple Street comes alive in the evening, offering a bustling atmosphere and an array of street food options. This vibrant market is a food lover's paradise, from grilled seafood and clay pot rice to stinky tofu and skewered meats.
Mong Kok: This bustling neighborhood is home to some of the best street food in Hong Kong. Visit Sai Yeung Choi Street and Dundas Street to find a variety of snacks like egg waffles, fish balls, stinky tofu, and more. Be sure to explore the Mong Kok Ladies' Market for shopping and street food in one place.
Central and Sheung Wan: These areas are hubs for business and shopping and are home to hidden street food gems. Graham Street and Peel Street are known for their local eateries and stalls serving authentic Cantonese street food. Don't miss the chance to try pineapple buns (bo lo bao) or egg tarts from renowned bakeries.
Temple and Fa Yuen Streets: Situated in the Yau Ma Tei district, these streets are famous for street food, particularly around the Temple Street Night Market. Explore the local cha chaan tengs (tea restaurants) and food stalls offering beef offal, stuffed squid, grilled cuttlefish and curry fish balls.
Navigating the Street Food Scene
Food hygiene: While street food in Hong Kong is generally safe, prioritizing hygiene is important. Look for stalls with clean food preparation areas and vendors who handle food with gloves or clean utensils. If in doubt, observe the stall's popularity among locals as it is often an indicator of good quality and hygiene.
Queue culture: Don't be deterred by long queues. In Hong Kong, waiting in line for street food is part of the experience. If locals patiently wait, it's a sign that the food is worth the wait. Join the queue and engage in friendly conversations with fellow food enthusiasts—it's a great way to make new friends and get recommendations.
Cash is king: Many street food stalls in Hong Kong operate on a cash-only basis, so it's wise to carry small denominations of Hong Kong dollars. ATMs are widely available if you need to withdraw cash, but having some local currency on hand will ensure a hassle-free street food adventure.
Adventurous eating: Don't hesitate to step out of your comfort zone and try new flavors and ingredients. Hong Kong's street food scene offers diverse options, including offal dishes, exotic fruits, and unique flavor combinations. Embrace the culinary adventure and be open to expanding your palate.
Additional Street Food Recommendations
Roast meats: Indulge in succulent roasted meats like roast duck, roast pork, and crispy-skinned barbecued pork (char siu). Many street-side eateries and food stalls specialize in these savory delights, and you can enjoy them with steamed rice or in a fluffy bao bun.
Wonton noodle soup: A comforting and iconic Hong Kong dish, wonton noodle soup consists of plump, shrimp-filled wontons and springy egg noodles served in a flavorful broth. Look for small, unassuming noodle shops that are renowned for their homemade wontons and delicious broth.
Tofu desserts (Douhua): End your street food exploration with a sweet treat. Douhua is a silky, pudding-like tofu dessert usually served hot or cold with a variety of toppings such as red bean paste, syrup, or peanuts. Visit traditional dessert shops like Honeymoon Dessert or Yee Shun Milk Company to savor this delightful dessert.
Conclusion
Hong Kong's street food scene is a sensory delight, offering many flavors and textures that will tantalize your taste buds. From traditional favorites to innovative creations, the city's streets are a treasure trove of culinary experiences.
Remember to embrace the vibrant culture, explore different neighborhoods, and indulge in the diverse street food offerings to make the most of your gastronomic adventure in Hong Kong.