Hong Kong may be a land of discounted brands but not all discounted items are authentic brands.
My wife was browsing over Facebook and chanced upon an attractive offer by a page purportedly selling Tiffany jewelry. Since she saw her friends liking it, my wife thought it is a trustworthy offer. She then proceeded to browse over its online collection and found products at greatly reduced prices. Wow, it's a good deal, she must have thought to herself and approached if we could buy the products online.
At first thought I observed a few odd things.
1. The website address (http://hk.nckstore.com/) does not reflect the Tiffany brand.
2. The website's homepage (http://www.nckstore.com/) is written in Chinese roughly saying some domain setting needs to be configured.
3. There is no information about shipping, refunds or return policy.
But the biggest thing that turned me off is that the website collects information such as credit card details without securing the page. No "https" appears on web address.
Fake Tiffany website: hk.nckstore.com
If a website collects credit card information on a non-secured platform, such info could be visible to a third-party intruder. But even without that intruder, our credit card details gets compromised if it lands on wrong hands who could use our details for online transactions, at our expense, of course.
With all these red flags raised, I was almost certain this website is bogus and not affiliated with Tiffany brand. If ever it sells Tiffany jewelry, it could be knock offs or used items. So I went further and asked the Tiffany customer service, which promptly replied: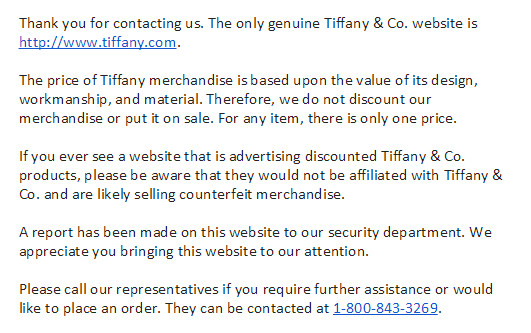 If phishing sites have become sophisticated (adding securing their domain hosting for $100 a year, putting more content and simply copying whatever a legit website has) more people, me included, will become victims of identity theft.
It's a happy mother's day. But please don't buy gifts for moms from fake websites!