Domestic helpers in Hong Kong are a common sight and in recent years, their number has certainly increased. Additionally, there are a number of foreign domestic helpers who have entered the market. The immense support that they render for menial tasks in households is extremely important since the other members are relieved of routine chores at reasonable hiring fees.
Maids and helpers are the biggest support and are usually available on the part-time or full-time basis. Their value cannot be underestimated. And hence, like for all other professions, they need to be lauded for their efforts.
One should treat helpers with immense respect and kindness and even encourage children to give respect and speak to them kindly. A random act of kindness can even let the helpers act proactively in the household. Get them some groceries, some beauty products they like, some extra allowance to enjoy their time out with their friends and several other gestures.
It is the duty of employers to treat domestic helpers as human beings and treat them with respect and kindness.
Top Ways to Reward Hong Kong Domestic Helpers
It is not at all mandatory for every employer to award bonuses or rewards to domestic helpers who mostly live with family members. One should be generous in rewarding the helpers who assist in routine chores. Some of the top rewards that one can give them include:
Annual Bonus in terms of money (1 month pay for their satisfactory performance)
Some useful gift and token of gratitude (some lucky charm coin or Fengshui emblem)
Boost in Salary or respite from work with paid holidays
Christmas gifts including a nice dress, smartphone or a ticket back to their home for a week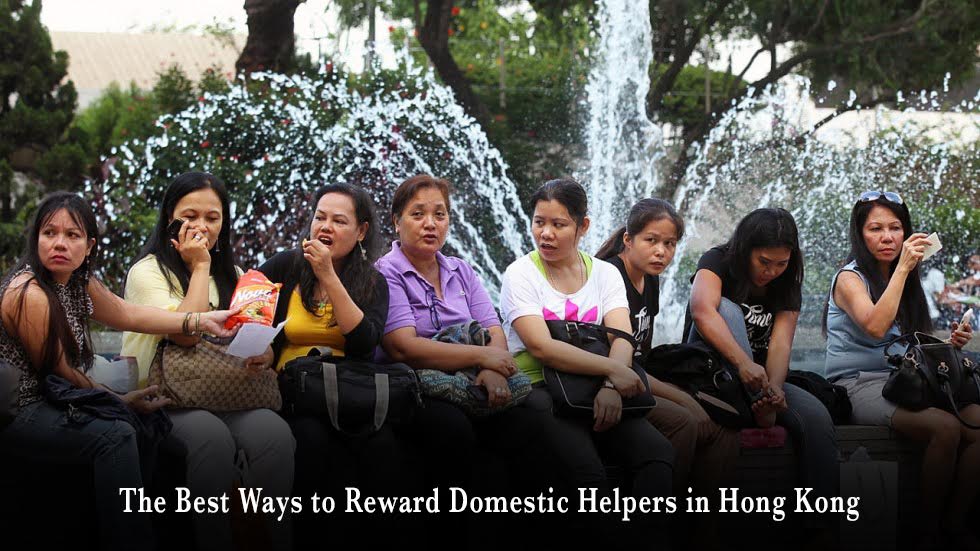 Employing domestic workers to carry out basic everyday tasks is a huge challenge but after one finds the ideal helper for the household, try to retain them as much as possible. They ease the load and take care of children. Generosity is a must for retaining them.
Not all rewards are through money. Here are some reward ideas that can work without you having to shell out money.
Allow them to go out for a day with some extra allowance
Let them meet their family or friends for their birthday
Let them train themselves with new skills
Gift some good unused things for using as a mark of appreciation of their good work
Remember, everyone wants appreciation for a well-done job. If your domestic helper is diligent and committed to their work, make them feel as part of the family by letting them join the family for outings, birthdays, festivals or special occasions.
Every reward will be an incentive to do better. The appreciation can be the difference, since they see that you value their presence and their work on a consistent basis. They will choose to work for you even if something goes wrong with the family. If possible, helping out their families living abroad will matter the most to them since they are sacrificing their life for their betterment.
Apart from fair treatment, a bonus or reward will make sure that your helper is always there for help even on their off days, in case you require them. They will express their gratitude by working harder than before.
Some more ideas to reward them
A thank you card or a skills award certificate is a great way to show that their effort matters to you and your family. If they love chocolates, gift them a load or buy cosmetics if they like to feel beautiful.
Teach your domestic helpers to talk to their relatives online or set them up a common channel for interaction. If things are lying unused in the house, do not throw them out. Let the domestic helper use it for their needs. Even electronics, mobile phones and kitchen utensils can be of great help to them. Many people even hand over precious gifts to their domestic helpers when they opt for moving out of the country and leave the job.
Gifting your helpers based on their interests and preferences is a great way to show that you care for them and their lives. Gifting a guitar to a helper who is a musician by passion or buying tickets to a gaming event they love, will be something that they will like, any time. Knowing what and when to reward them is important. Do not spoil them with excessive rewards and pricey ornaments. But go for something subtle yet memorable to show your appreciation.
Author bio
Edouard Muller is a French entrepreneur working in the Hive Sai Kung. He is the founder of HelperPlace – a leading platform to find the right domestic helper for your family.