Expatriates looking to relocate for better pay in Asia might want to consider Hong Kong in their career stopover.

The city has been ranked fourth highest in terms of expat salary package in the Asia Pacific region, improving from its fifth place last year, according to a survey by ECA International.
The average value of a typical annual package for expatriate middle managers in Hong Kong is pegged at HK$2,070,000 (US$267,000), 2 per cent lower than its value last year and represents its weakest level in four years, according to human resources consultancy agency. Nonetheless, it was enough to propel Hong Kong to fourth best in the region from its fifth position in 2015.
An expatriate package factors in three main elements: cash salary; benefits such as housing, international schools for the kids, and cars; and tax.
Japan topped the ranking with expat middle managers earn an average of US$328,800 per year. China takes the second spot at about US$290,250, while India was in the third place (US$278,000).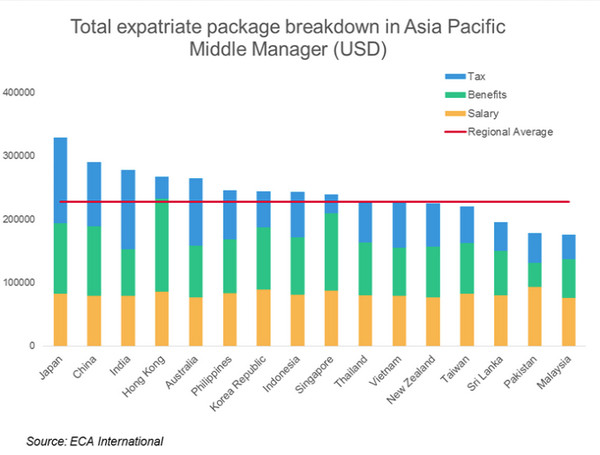 Japan
China
India
Hong Kong
Australia
Philippines
South Korea
Indonesia
Singapore
Thailand
Vietnam
New Zealand
Taiwan
Sri Lanka
Pakistan
Malaysia